Trail Rides
See the Beautiful Pine Ridge Reservation on Horseback
(Limited Availability for Summer 2023)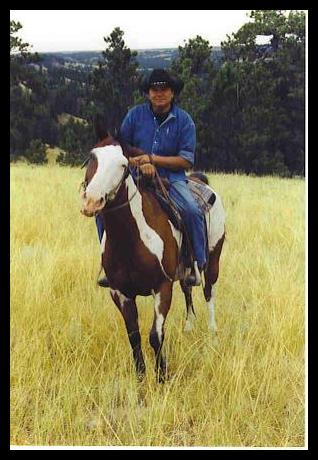 Wakinyantuwan Tiwahe is located in the heart of the Pine Ridge Indian Reservation in South Dakota. Wakinyantuwan Tiwahe is Lakota owned and operated by Vernell White Thunder who was born and raised here. Vernell has been working with horses all his life and he is able to teach anyone to ride with a short lesson. After your lesson with Vernell you will be ready to ride on a spectacular Lakota pony for a ride of a lifetime. People of all different riding experiences are invited to come and ride. Riders with no experience, novice riders, as well as the well-experienced rider will all enjoy these rides that are offered here at Wakinyantuwan Tiwahe. Riders are limited no groups at this time.

Please click on the following link for a brief view of a trail ride at Wakinyantuwan Tiwahe:
 http://www.youtube.com/watch?v=QLGnr_o9A0A&feature=youtube_gdata_player


Wakinyantuwan Tiwahe offers two different trail rides:
Buffalo Pasture Trail Ride: Explore the 30,000 acre Tribal Buffalo Pasture on horseback with Vernell as your guide. Herds of buffalo roam this beautiful pasture land. You will definitely enjoy this ride! Price is $175 per person. 

Prairie Trail Ride: Experience the open prairie with Vernell as your guide. This 1-2 hour trail is a popular ride. Length of ride is dependent on the rider's experience level. Price is $100 per person. 
 
25% non-refundable deposit required when making reservations which can be mailed.
PLAN ON HAVING FUN AND BE SURE TO BRING YOUR CAMERA!!!