TOURS

---
Three Nations Tour

Pine Ridge Reservation Tour
Badlands Tour
Black Hills Tour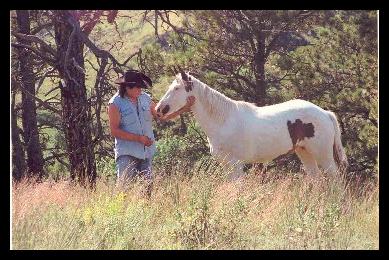 Vernell White Thunder, of Wakinyantuwan Tiwahe, was born and raised here on the Pine Ridge Indian Reservation in South Dakota. He has a vast knowledge of the area and has worked for the United State Geological Survey Office.
Mr. White Thunder has been featured in numerous newspaper and magazine articles including the London Times. He has also been featured in books and movies.
Vehicle tours of the Pine Ridge Indian Reservation are available. Learn about the Oglala Lakota Nation history and culture from a Lakota who has lived here all of his life. Not only are the Reservation tours educational but they are entertaining as well.
Tours of the Black Hills and Badlands by vehicle are also available. These tours are extensive and knowledge-packed. All of these touring packages are all day activities. Tours are exciting and a learning experience.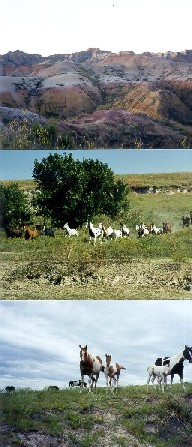 Three Nations Tour
We are offering for your pleasure as well as educational enhancement a Three Nations Tour. This tour involves traveling from the Oglala Nation to the Cheyenne Nation and on to the Crow Nation.
While on the Oglala Nation you will have an opportunity to visit all the sights such as the Oglala Lakota College Historical Center, through Wounded Knee and the Red Cloud Museum and maybe some riding for those who want to experience the beauty from the back of a real Indian pony.
While on the Cheyenne Nation, you will be visiting museums and landmarks, see and visit with a Cheyenne tour guide who lives and knows the history and culture passed to him by his elders.
Last, but not least, you will visit the Crow Nation, see the Little Big Horn Battle Site, camp along the Yellow Stone River, then back to the Oglala Nation. You will not forget this trip.
Write or Call for more information.











The Badlands tour is breath-taking. This tour gives you an in-depth tours of the Badlands which includes short hikes, a geological explanation of the Badlands, and, a historical Sioux perspective. This trip is an all-day (8-12 hours) outing.
The Black Hills Tour includes a historical perspective of the Black Hills, Crazy Horse Monument, Custer State Park, Needles Highway and rest stops at different lakes. This tour is an 8-12 hour trip.
Our Reservation Tour includes a tour of the Tribal Buffalo Herd, a drive through reservation small towns, a visit at Red Cloud School Museum and the Wounded Knee Massacre site, and, if time allows, traditional Sundance and Pow-wow grounds. This tour begins with a brief narration of the history, culture and traditions of the Lakota Nation.
Tours are available on an individual basis or for small groups.
Tour costs are $150 per person per day + expenses.

25% deposit required at time of making reservations which can be mailed.


Lodging accommodations are available for those who want to experience the area in a rustic setting.
Cabins are available with nightly and weekly rates.
Tipi (teepee) lodging is also available for those who want to have a truly historical experience.

Backcountry camping is also available.
Rustic Accommodations at Wakinyantuwan Tiwahe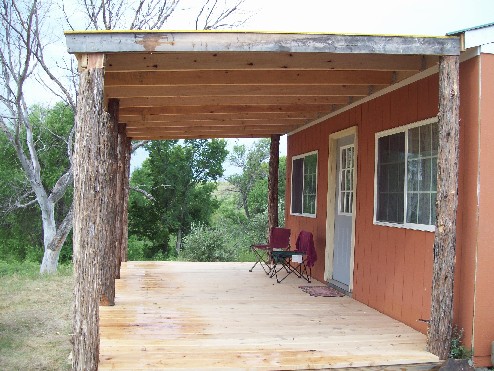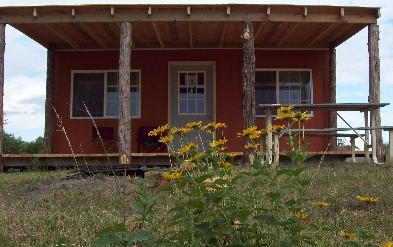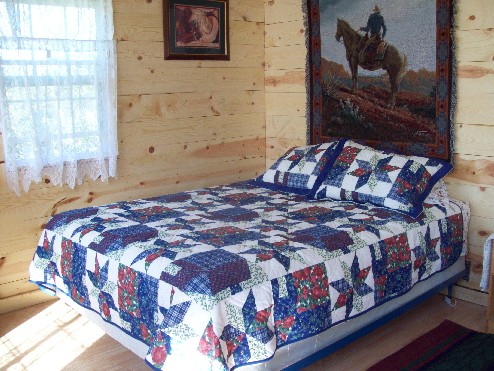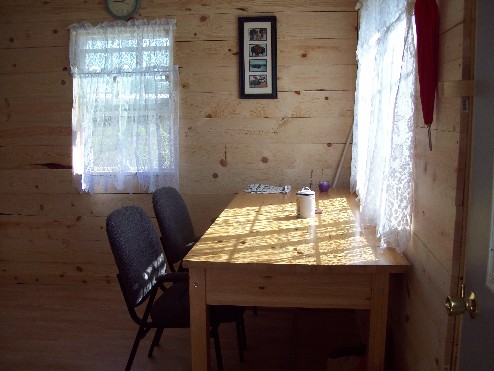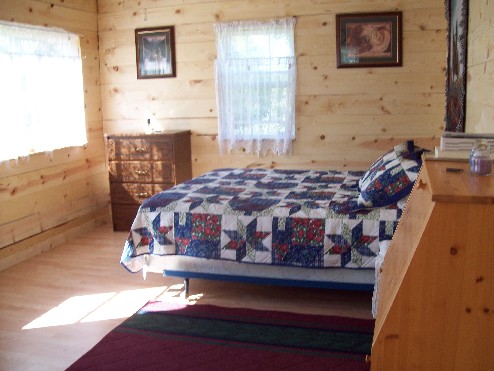 All inquiries (voice messages, e-mails, or letters) at White Thunder Ranch will be responded to promptly. Please be assured that we will respond to your questions or comments.

Tell A Friend About this website (click on the yellow envelope)